You are invited to… WEJ Movie Night  featuring:
EARLY MAN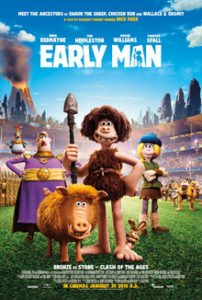 Thursday, January 24th, 2019
Pizza Dinner: 6:00pm-6:30pm
Movie in the Gym: 6:30-8:15pm
Admission is FREE and sponsored by the WEJ School Council!
FOOD: Pizza, popcorn and drinks can be ordered through the hot lunch ordering system (https://wejcouncil.hotlunches.net/) under the "Movie Night January 24" menu. Pizza delivery at 6:00pm and the movie starts at 6:30pm. Limited quantities of pizza and drinks will also be available for purchase at the school.
**FOOD ORDER DEADLINE is Wednesday, January 24th at 12:00 NOON!**
Note: Please note that a parent or guardian must accompany their child(ren) to this event. No food/drinks are allowed in the gym, so there will be designated classrooms for eating dinner (Classrooms 143 & 145).
Help: We are still looking for 4-5 volunteers to help run this movie night. Please send an email to wejcochair@gmail.com to let us know if you can help!
We look forward to seeing you there!
WEJ School Council